Loved by Celebrities & Influencers
The New Peak: A 240Hz Gaming Experience
Achieve peak eSports gaming smoothness with the new PRISM+ X270 240Hz. With its ultra-quick 1ms response time and the highest 240Hz refresh rate in the market, the X270 240Hz shatters the norm of 144Hz gaming and delivers a never-before fluidity on a 1500R curvature.
Highest-In-Market 240Hz Gameplay
An extremely smooth 240Hz gives you a fluidity like never before. Get the upper hand with the amazing X270 240Hz frame rate in every game scenario. Move past what your eyes are acquainted with.


Market-Leading 1ms Response Time
Miss nothing with 1ms response time, where every single motion frame is captured down to a mere millisecond.  Gain a superior edge over your opponents, ideal for FPS games.
Cinematic Visual Immersion
Our improved 1500R curvature produces a viewing immersion that allows the user's eyes to capture everything on the screen in a glance. Optimized for comfort through endless rounds of rigorous testing, our X270 240Hz will never be uncomfortable as they match the eyes' natural field of view.
Next-Level Vibrant Colors
The X270 240Hz elevates your viewing experience with a boosted Wide Color Gamut of 120% sRGB with cutting-edge backlight technology. Along with an intense 400 cd/m² brightness and HDR400, we've set the standard for the most delightful images you can portray on a screen. A crisp FHD resolution deserves the best colors to accompany it - to deliver real-time action in its full majesty.
Perfect Your Game With No Screen Tearing and Stutters
The X270 240Hz features AMD Radeon FreeSync technology to help you achieve a smooth and stable gaming experience by perfectly eliminating all visual tearing, stuttering and jamming.
Maximum ZeroBezel Estate
End-to-end screen real estate made possible by an ultra-slim ZeroBezel design, the X270 240Hz maximizes every inch of the screen to display a fuller and much more immersive experience- particularly with its curved form factor and brilliant colors.
A Brand New Refreshed Look
Introducing a minimalist and sleek back-design, blue backlight illumination is added to give the X270 240Hz a cool yet commanding glow that completes your gaming set-up aesthetics. A monitor has never looked greater. 
Brilliant Contrast
With the Vertical Alignment (VA) panel system, the X270 offers an outstanding viewing experience, with a contrast ratio of 3000:1, offering deep black, vivid white and vibrant colours.
Gain Without Sacrifice
In order to give users the best gaming and viewing experience, the X270 240Hz was built with adjustable blue light emission and a flicker-free panel, caring for the comfort of your eyes as much as the quality of visuals delivered. 
Calibrated Mode Switching
Quickly switch through our carefully factory calibrated profiles that have been optimized for various usage types. From game modes for specific genres to movie mode and more, we've prepared ideal profiles for you to get the most out of the X270 240Hz in any usage scenario.
Crushing the Competition

At PRISM+ we always seek to outperform and overdeliver compared to our competition. Here is a breakdown of how our products eclipse others in the market. 
Awesome!!
Item received in a great condition, bought with Dual Monitor Arm.. I love it very much.. Gonna repeat the order obviously..
Damn Nice
Very very fast delivery, Wednesday night 10pm order, Friday 12pm already received. So far every things is good, screen colour need to adjust will become amazing. I also feel adjust button monitor under the screen hard to push and can't see it, other than that monitor is amazing.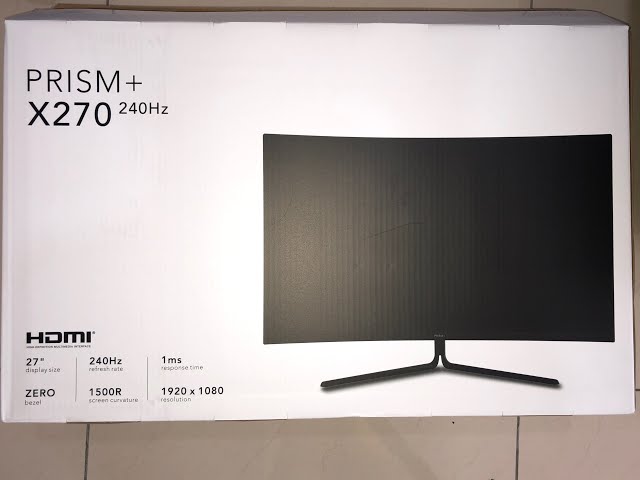 Feels good to use
after using about 10days dont have any problems